About
My name is Kimberly. I'm a central Iowa gal with an amazing husband, and two stinkers of kids that have changed my life.  I enjoy sharing fun things to do in central Iowa, kid activities, deals and present ideas, but I reserve the right to change what I'm into at any time!
Here's me and my crew.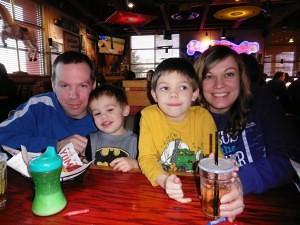 I post affiliate links if I think they are great.  If it generates any income after paying for the expenses of having a webpage, half will go to missions work.
"People are often unreasonable, illogical and self centered;
Forgive them anyway.
If you are kind, people may accuse you of selfish, ulterior motives;
Be kind anyway.
If you are successful, you will win some false friends and some true enemies;
Succeed anyway.
If you are honest and frank, people may cheat you;
Be honest and frank anyway.
What you spend years building, someone could destroy overnight;
Build anyway.
If you find serenity and happiness, they may be jealous;
Be happy anyway.
The good you do today, people will often forget tomorrow;
Do good anyway.
Give the world the best you have, and it may never be enough;
Give the world the best you've got anyway.
You see, in the final analysis, it is between you and your God;
It was never between you and them anyway."
-Mother Teresa
This blog is a personal blog written and edited by me. For questions about this blog, please contact me at kimberly@frugalplayground.com
This blog accepts forms of cash advertising, sponsorship, paid insertions or other forms of compensation.
This blog abides by word of mouth marketing standards. We believe in honesty of relationship, opinion and identity. The compensation received may influence the advertising content, topics or posts made in this blog. That content, advertising space or post will be clearly identified as paid or sponsored content.
The owner(s) of this blog is compensated to provide opinion on products, services, websites and various other topics. Even though the owner(s) of this blog receives compensation for our posts or advertisements, we always give our honest opinions, findings, beliefs, or experiences on those topics or products. The views and opinions expressed on this blog are purely the bloggers' own.
Any product claim, statistic, quote or other representation about a product or service should be verified with the manufacturer, provider or party in question.